Gato Roboto
A Cat with a mission, to save the captain. Armoured with a mech suit, Cat's fault for playing with the controls. Causing the spaceship to crash, onto a hostile planet.
Created by @Miroko and @josephbourgeois, who just so happens to be Newgrounds Members.
NG News: Gato Roboto Art Contest!
NG News: Gato Roboto Fan Art Winners!
Seen the release trailer, about this indie game. Before reading the NG News, about an art contest. Lost my chances to post this piece. Shouldn't have taken long, but did anyway. However, it doesn't matter, two reasons way. 
 I don't have a Steam account, would have, but didn't. Also, haven't read the guidelines properly. Thinking it was just a test or something... 
Well no matter, I'm still going to continue with this piece. 
This situation may sound similar, but this time its base on a video game. The working title is "Sweet but Homicidal," but might change it to something else. It is a one-page comic strip, casting other game related characters. 
Involving two survival games, and one first-person shooter. The titles of those games will be shown soon enough. 
The comic will be sent, but for now. Here is a pattern design piece. A line sketch, inked with no colours. After drawing out the little characters. There is only one known as Kiki. Besides the Captain, the little ones are let's are...?
Lets called them obstacles. 
 I don't want to because of those who haven't played the game. Because I should reveal too much, so no spoiler, or whatever. Should correctly read the contest guidelines more carefully.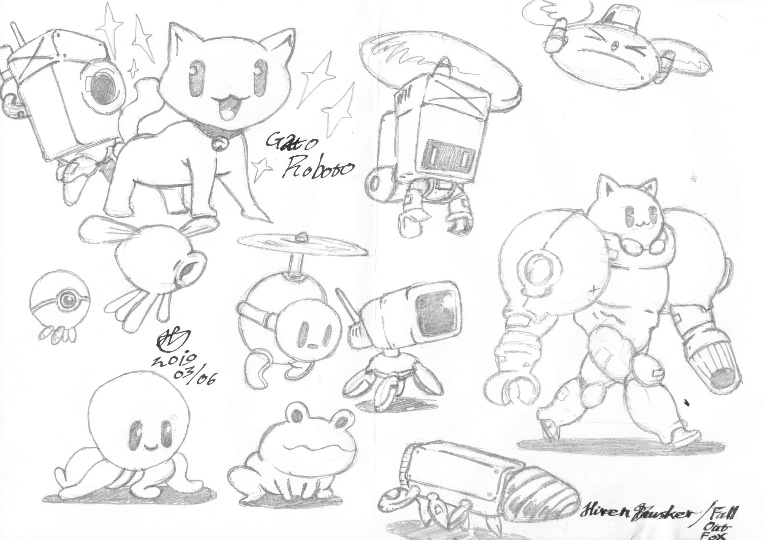 Oh and here is the rough sketch, just by looking a a screen.